19.4gm
Pain Relief Musculars/Headache/Joint Aches/Body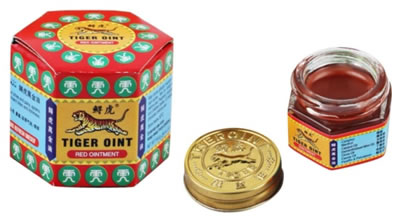 Tiger Balm first came into being in 1870 and has been a household name, albeit with the older generation, since then.
For a full history of the brand please follow the link:
https://www.tigerbalm-shop.com/content/7-tiger-balm-history
Whilst there is now a white Tiger Balm available, specially formulated for Headaches and similar ailments, RED TIGER BALM is the most famous and renowned, and is once again growing in popularity. Used for the temporary relief of muscle and joint pain, we here at hemp-products.shop are proud to be associated with the band, and, whilst not HEMP based, it goes hand-in-hand with our pain relief products.
PRODUCT DETAILS
For temporary relief of muscular aches and pains.
SUITABLE FOR
Suitable for adults and children over 2 years of age.
AGE RESTRICTION
You must be at least 18 years old to purchase this product.
HOW TO USE
Rub gently on affected parts of the skin.
FOR CUTANEOUS USE
Hazards and Cautions
For external use only.
Do not apply to broken skin.
Consult a doctor and discontinue use if irritation occurs.
Avoid contact with eyes and mucous membranes.
Keep all medicines out of the reach and sight of children.
PRECAUTIONS & STORAGE
Do not store above 25ºC.
This is a medicine;
Consult your doctor or pharmacist if you have an underlying medical condition, are taking any other medication or complementary therapy, or if symptoms persist
Seek advice before using if you are pregnant, planning to become pregnant, breastfeeding or suffer from allergies
PRICE:£ 2.99
POSTAGE £4.95 (Any size order) TO ANY MAINLAND U.K. ADDRESS